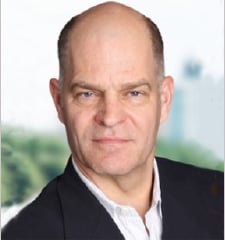 Olivier Witteveen serves as Meduit's Senior Vice President of Product Development. In this issue of Cycle Up, we sat down with Olivier to talk about leveraging digital technologies to drive patient engagement. In his spare time, you'll find Olivier playing tennis, speed skating and sailing. He recently built a fast, lightweight wooden sailboat with his son!
Q: Can you share a bit about your history and what brought you to Meduit?

A: I came to Meduit through Avadyne Health, where I served as Chief Information Officer in a similar role to what I am doing now at Meduit.

I first became familiar with the U.S. Healthcare market as CEO of the largest medical interpreting company in California. Scheduling, authorizing and billing for medical interpreters to the health and workers' compensation insurance carriers gave me some valuable insight into the complexities of the healthcare reimbursement system.

In 2002, I co-founded Benchmark Revenue Management. We focused on building web-based workflow software for the insurance side of the revenue cycle market to help hospital staff work accounts more effectively and productively than was possible with the underlying patient accounting systems. In 2012, that company merged with Avadyne, and then in April of this year Avadyne joined Meduit.

Q: How important is patient engagement to hospitals, health systems and physicians, and how has COVID-19 changed that landscape?

A: The pandemic certainly disrupted patient care and made delivery of care more complicated in terms of engaging with patients, scheduling appointments, changing procedures from the clinical side, managing remote workers and dealing with logistics across the spectrum of care. Most hospitals, health systems and physician groups have had to make dramatic shifts in prioritizing patient care and how they deliver care. A shift to telemedicine has been noticeable. Of course, the impact depends a great deal on the state of the organization's existing digital and technical sophistication before COVID-19.

Q: What would you like hospitals, health systems and physician groups to know about digital technologies and how those technologies can help drive organizational resilience and patient engagement?

A: There is a general expectation in society that organizations can and should engage with consumers via digital channels. However, the reimbursement system in healthcare is very complex, and this makes the introduction of digital consumer channels and services much more difficult to accomplish. Thus, many in the industry are struggling with this.

In our industry, it's critical to have a well-thought-out coordination of technologies so digital patient engagement is actually useful to the patient and not counterproductive. For example, last week I had to make an appointment with a physician, and after scheduling the appointment, I received an email to register prior to my appointment. Unfortunately, when I clicked on the link to register, an account number was required which was not yet provided. When something like that happens, it becomes annoying and counterproductive.

So, we want to be sure that automated messaging, content and technologies are fully integrated with the provider's entire system and actually improve the patient experience.

Q: How do Meduit's solutions such as the Patient Concierge app and Voice Analytics help drive patient engagement?

A: While voice analytics are utilized for important compliance and training functions, one of the most useful applications is gathering objective data on the patient experience. Anecdotal evidence can be interesting, but it doesn't inform business decisions very well. With voice analytics, we can gather vast amounts of data regarding the patient experience. At Avadyne, we were one of the first to come out with a patient financial experience score that enabled us to actually measure the patient financial experience. So now Meduit is able to gather this patient data, measure it and then provide feedback to healthcare systems to make necessary adjustments to processes in order to improve the patient's financial experience.

The Patient Concierge app is an example of how we can leverage digital technologies to help patients understand and pay their bill. This app is a good entry point for patient engagement that allows us to provide the patient with some innovative and fun self-service options before they have to pick up the phone and dig deeper into the issue with a customer service representative. As an engaging 3D avatar, Eve can answer many of the initial questions that the patient may have, and that saves the patient time. For those who find they need further information or assistance, they can get connected to an agent directly from the app or go through a portal for additional resources, answers, statements and to make a payment.

Q: What additional projects are you working on, and how will those projects help Meduit's clients?

A: We're continuing to focus on the expansion of communication channels such as chat, text, smart interactive voice response (IVR) and portals. These technologies, like Eve, provide easy and quick access to answers without having to sit on hold on the phone or wait for an email response. It's frustrating for patients to deal with medical bills in the first place. It's more frustrating if those bills are incorrect or if the patient doesn't understand them. Providing self-service options that help the patient get answers quickly and efficiently is a bonus.

We're also expanding patient payment options like PayPal and Apple Pay where patients can use their existing stored payments. In addition, we're looking at how to extend channels for electronic bill presentment that leverage electronic methods to deliver bills to patients seamlessly. We are also working on a new product that will send patients digital updates while they are waiting for their bill so they understand where things are in the process.

What makes us unique is that this digital infrastructure is built as an extension of our customer service teams because we believe that it is important for patients to have the ability to talk to a representative. Many issues that are inherent to the complexity of the reimbursement system require patients to resolve these issues as efficiently as possible. The integration of our customer service centers and digital technologies are designed to make that as easy and efficient as possible.

Q: If you were working for a hospital, what would be your checklist for building effective patient engagement system-wide by leveraging technology?

A: Digital technologies are great, but they are only helpful if they are well-integrated into the hospital's existing systems. As a first step, I recommend mapping out all the patient touchpoints across the different departments. Of course, you'll need a cross-functional team to do that. Then it is important to identify where you are collecting and storing that critical information on patients. That will give you a visual roadmap of what information is going in and out of the hospital.

Second, I recommend establishing a system for managing patient preferences so you have a repository for how patients want to engage. Many patients prefer to receive paper bills while others want to receive emails, texts or are happy to use an app. It's important to use the same method when communicating with the patient. This in itself is a challenge, as hospitals have so many disparate systems. Once you have that function in place, then you can work on the actual digital technologies to send out communications.

I personally believe that there are plenty of digital technologies out there. The biggest challenge is understanding how to use those solutions and how to connect them to the right systems internally.

Q: Could you share an illustrative story about a particularly successful outcome from leveraging patient engagement solutions?

A: Meduit developed a sophisticated portal that integrated with the hospital's EMR system and the patient portal for billing and statements for one of our very large clients. This structure allowed the patient to have a single point-of-entry where they could access their medical records and their financial information without having to log in to two different sites.

In another case, we helped clients with outbound communications prior to treatment and billing which allowed patients to be fully aware regarding their procedure and their financial responsibilities. By addressing those issues right up front, we were able to resolve many questions before those questions become larger issues.