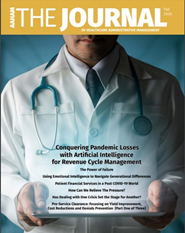 The coronavirus pandemic has challenged the healthcare industry in unanticipated and frankly unimaginable ways this year. As providers continue to stabilize their organizations, it is pretty clear that there is no going back to a pre-pandemic normal in terms of how they approach revenue cycle management.
To help providers develop and implement effective financial strategies, the AAHAM Fall Journal has published an article entitled Conquering Pandemic Losses with Artificial Intelligence for Revenue Cycle Management, authored by Jeff Nieman, CEO of Meduit.The article breaks down:
The pandemic's impact on revenue

How artificial intelligence (AI) can mitigate the current crisis

Tips for selecting the right AI solutions

Strategies for building a more resilient organization to weather the current crisis and prepare for future challenges
The article also recommends that healthcare providers considering AI for RCM must be thorough when selecting a partner. Look for the following characteristics:
100% healthcare industry focus

Established track record of success

Customized solutions that streamline your processes

Solutions that most effectively improve revenue collection
Organizations that are able to incorporate innovative tools that leverage AI will position themselves for long-term stability and success.