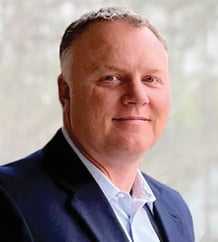 In each edition of Cycle Up, we sit down with one of the leading voices in the company. In this issue, we're talking with Darrell Bryant, Senior Vice President of Human Resources (HR), to talk about staffing and corporate culture.
For Darrell, family is key, and work-life balance is essential. Darrell and his wife have two amazing young adults in high school, so getting as much time together before they are off to college is important. In his spare time, you will find Darrell at soccer matches, baseball games, football games, team practice sessions, a family hike or a weekend family getaway. Darrell believes that time is not a given, so he is committed to remain as intentional with family as he is to work.

Q: Can you share a bit about your history and what brought you to Meduit?

A: I have been fortunate in my career to get to work with some amazing companies, inspiring executives, as well as incredible HR professionals. They have provided me with a foundation in talent management and opportunities to work collaboratively with business leaders on developing human capital strategies that create continuous improvement for the operation while delivering a positive employee experience. I am lucky to have gained experience in large public companies all the way to small family-owned businesses. I was afforded the opportunity to partner with all stakeholders in everything from underperforming turnarounds to significant organic growth and M&A—all of which, I believe, prepared me to join Meduit's outstanding team of HR professionals. Together, we want to further cultivate an HR function that is intentional about balancing the needs of all Meduit employees and the strategic growth of the company.

Q: Meduit is in a strong growth phase. What do you see as the role of HR in supporting Meduit's ongoing growth?

A: Meduit's HR team is focused on recruiting talented professionals, investing in the onboarding and assimilation into the company to ensure we are poised to effectively train the new hires and provide them the tools and knowledge to be successful in the organization. Our goals include driving centers of excellence within the HR function to ensure ongoing consistent support for all employees, including those working from home or in a hybrid state. We also plan to develop a more robust platform for professional development and engage the workforce through active listening to further cultivate the strong company culture at Meduit.

Q: Meduit's employee engagement scores hit 78% earlier this year while most companies' employee satisfaction scores average 50%. To what do you attribute Meduit's high employee engagement scores?

A: Having recently joined the company, I am reliant on our amazing HR directors for their insight into Meduit's rising employee engagement scores. They report that our employees have a clear understanding of what is expected of them and that there is a strong support system for them at work. In essence, someone in the workplace cares about them as a person. It will be critical for HR to continue building robust leadership development programs for our supervisors and managers in the organization. As our workforce continues to grow, so do the challenges. It is essential that our leaders are poised to meet each of those challenges with empathy and consistency.

Q: In what ways does Meduit's internal culture and positive employee satisfaction impact the Meduit client experience and support their staffing challenges?

A: Stacey Arnold, Meduit's Strategic HR Director based in Indiana, put it best. "With Meduit employees fully staffed and performing at their highest level, handling revenue cycle for hospitals and large physician groups, our clients can focus on what is truly important – the health and well-being of the patients."

Q: While many companies are experiencing staffing issues due to the impact of COVID-19, Meduit has a thriving and growing workforce. What are your strategies for expanding on Meduit's employee satisfaction?

A: During the COVID-19 pandemic, Meduit's primary focus has been and will continue to be the safety and well-being of our employees and their families. We regularly monitor CDC guidance, the national case data and local geographies where we operate. Creating centers of excellence within HR will expand our ability to deliver efficient support for our employees, strategically align health and wellness programs, deliver comprehensive compensation data to ensure we are paying to market, and provide real-time people analytics to help the business manage decisions affecting our employees. We are establishing more comprehensive programs around work-from-home where feasible. In addition, we continue to promote a transparent and open relationship with all of our employees, as their feedback and ideas for improvement are paramount to the success of our future growth initiatives.

Q: What would you like prospective Meduit team members to know about working at Meduit?

A: There are numerous opportunities as Meduit continues to grow! Many employees have been extensively cross-trained, transitioned to new opportunities and promoted. As the company continues its growth cycle, growing pains will surely arise as the company gets comfortable and more efficient in its operations. For prospective employees who show diligent accountability, are up for the challenge and have the patience to work with us through the growth cycle, we are a great fit! Few companies can provide the growth and culture of excellence that we are committed to in this industry.

Q: What kind of core attributes does Meduit look for in a potential employee?

A: We are seeking potential employees that can embrace and model our core values of Integrity, Teamwork, Client Focus, Continuous Improvement and being Results Driven. I would like potential employees to know that, as an HR team, we are looking to push the traditional boundaries of HR to foster programs and build on this culture to ensure that Meduit remains an employer of choice.