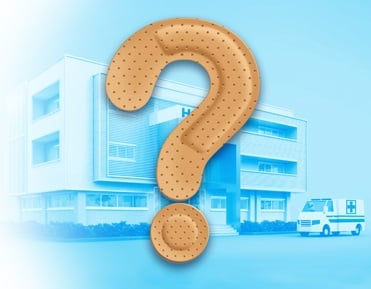 As hospital, health system and physician group leaders look toward 2023, most are still facing persistent challenges that impact nearly every area of the industry. Let's take a look at the top pain points and strategies to mitigate them.
Losses and Margin Compression
So far this year, providers have experienced some of the worst margins since the advent of COVID-19, as gains earlier in the year were reversed in July, according to the latest National Hospital Flash Report from Kaufman Hall. The report notes that outpatient volumes negatively impacted revenues, and hospitals can no longer count on supplemental federal funding to buffer these mounting losses as they did in previous pandemic years.1 There is little on the horizon to suggest new sources of revenue that could quickly close that gap.
Labor and Staffing
Labor and staffing issues are expected to continue through 2023 as healthcare employment remains below pre-pandemic levels, with the number of workers down by 1.1% compared to February 2020, reported by the U.S. Bureau of Labor Statistics.2 Staffing shortages are now the nation's top patient safety concern, with the impact felt across the entire continuum of care, according to U.S. News.3 Rising vendor consolidation only amplifies the labor challenge, as vendors are also under pressure to do more with less.
Rising Patient Balances
Providers across the industry are seeing fewer payments from patients and mounting patient bad debt due to high-deductible insurance plans. While these plans are financially beneficial to employers, they put more financial responsibility on the patient, making it more difficult for patients to pay their bills. At the same time, bad debt from patients with insurance increased by more than five times, according to a new study from Crowe Healthcare Risk Consulting.4 Compounding the problem, mounting charity care expenses rose 21% in the first half of 2022, according to a report from Modern Healthcare.5
Meduit can help with tactical revenue cycle solutions and strategies that address these challenges and more to ensure healthcare providers' financial health and resilience. Download the full article below:
1 https://www.kaufmanhall.com/sites/default/files/2022-08/KH_NHFR_2022-08.pdf. Accessed 9.07.22.
2 https://www.bls.gov/news.release/empsit.nr0.htm. Accessed 9.07.22.
3 https://www.usnews.com/news/health-news/articles/2022-07-28/staff-shortages-choking-u-s-health-care-system. Accessed 9.07.22.
4https://www.crowe.com/insights/healthcare-connection/top-management-risks-in-healthcare-for-2022. Accessed 9.07.22.