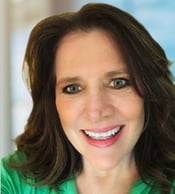 In each edition of Cycle Up, we sit down with one of the leading voices in the firm. In this issue, we're talking with Lisa Keffer, Relationship Manager at Meduit, about the importance of nurturing client relationships.
Lisa has been selected via vote to hold the position of Regional Executive for HFMA Region 9. This is a very high and honored position that comes after years of outstanding service and leadership. Lisa's three-year term begins June 2023.
In her spare time, you'll find Lisa volunteering at the Globe Life Garden, a nonprofit organization that provides fresh fruits and vegetables to the Community Garden Kitchen, which in turn prepares and serves meals in a restaurant-like setting to feed those in need. Lisa also enjoys renovating older homes and restoring them back to their glory days.
Q: When did you join Meduit, and what was your career history prior to Meduit?
A: I joined Meduit in 2014 and worked for several RCM companies prior to that time. Before my RCM days, I worked on the provider side credentialing physicians for hospital privileges.
Q: What does your role as Relationship Manager at Meduit entail?
A: I work with clients to ensure that they are receiving the right solutions from Meduit that effectively meet their revenue cycle goals. Ultimately, I bring people together in a team-oriented manner that contributes to the dual goals of increased revenue for the client and the freedom to focus their time and expertise on patient care.
Q: How does your work at Meduit help advance revenue cycle solutions and accelerate cash for clients?
A: The first step is relationship-building, which includes meeting people, listening to their needs and educating them on how Meduit can satisfy those needs. Clients cannot know what Meduit offers unless we know what the clients need and are there for them. Our clients need to know the Meduit team members and to feel confident that we have the right solutions to meet their challenges and can deliver them efficiently.
Q: What would you like hospital, health system and physician group leaders to know about what Meduit has to offer?
A: Meduit has the experience and the vision to develop leading-edge solutions and provide the guidance that healthcare organizations need to ensure their financial health and resilience. We lead from the front with innovative solutions, including those that employ artificial intelligence and automated tools, to meet the financial needs of our clients. As the number one revenue cycle solutions provider for client contracts in the U.S., we deliver results for hospitals and physician groups, regardless of their size.
Q: Can you tell us about your history with HFMA?
A: HFMA is made up of 11 Regions and in those regions are 61 chapters. HFMA Region 9, over which I will serve, includes five states: Texas, Oklahoma, Louisiana, Mississippi and Arkansas. Region 9 has over 4,000 members. I have been honored to serve as a past president of HFMA and look forward to working as Regional Executive for HFMA Region 9 beginning in June.