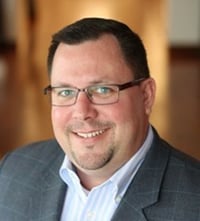 Greg Rassier has almost 30 years' experience as a revenue cycle strategist, executive and consultant focusing on the design, implementation and transformation of the healthcare revenue cycle and call center solutions. He joined Meduit in 2019 and is responsible for overseeing the company's day-to-day operations. He is an expert at creating process efficiency and partnering with Meduit's customers to provide industry-leading revenue cycle solutions. In his free time, you'll find Greg hiking, traveling the world, golfing, scuba diving and attending the World Cup every four years.
Q: Can you share a bit about your history and what drew you to Meduit?

A: I've been in the Accounts Receivable Management (ARM) industry for nearly 30 years. I had an opportunity to join a large health system that was building out a full end-to-end revenue cycle solution 17 years ago. There, I was able to experience the expanse of the revenue cycle from scheduling all the way through the back-end. After helping build that organization, I went out on my own as an operational consultant to support health systems and revenue cycle management (RCM) organizations. In 2018, I consulted for Meduit to help the organization focus on integration and the shift from a service-enabled to a technology-enabled group, which set the stage for Meduit's growth. The following year, I was approached to join Meduit as COO with the goal of leading the organization further on the path of innovative technology-enabled solutions that drive the company today.

Q: What are the key issues related to the revenue cycle that you see hospitals, health systems and physician groups facing in 2022?

A: Reimbursement issues, uncompensated care and the complexity of regulatory changes continue to challenge the healthcare industry. Regulatory issues in particular are creating difficulties for maximizing reimbursement. However, COVID-19 has had a unique impact on staffing and retention of quality employees. Hospitals, health systems and physician groups are having to prioritize patient care over everything. Many providers are coming up short when it comes to managing the revenue cycle from pre-service work all the way through insurance billing and self-pay collections.

Q: What strategies should providers focus on to recover financially?

A: Healthcare providers need to create strategies around managing staff everywhere rather than having staff only within a brick-and-mortar environment. Given today's staffing constraints, I recommend a two-part strategy:
Focus internal staff on the tasks that are most important to the hospital or physician practice
Identify the right RCM experts to partner with to offload tasks that the hospital or physician group staff are not specialized in
Q: What would transforming the revenue cycle look like from inside a provider's organization?

A: Organizations need to work smarter than ever before and not harder. Teaming up with the right RCM partner with solutions that leverage artificial intelligence (AI) and robotic process automation (RPA) allows the healthcare organization to hand off time-consuming, repetitive tasks. This allows the provider to focus their highly valuable human resources on more complex tasks, such as maximizing patient engagement, generating higher levels of reimbursement, dealing with denials and improving patient registration accuracy.

There are so many high-value functions in the revenue cycle, it is critical to figure out where to specialize in order drive efficiency and effectively focus limited internal resources. For instance, with patient engagement, be sure to target delivering the right messages to patients in the way they want to receive communications. Digital delivery solutions, including text, chat, email, interactive voice response systems and web account access, provide more self-service options to patients. While these digital tools are highly efficient and convenient, they don't represent a single solution. A significant portion of the patient base needs to talk to a person to work through the complexities of their bill. Providers need to offer all options in order to maximize total patient engagement and meet patients where they are.

Q: How can Meduit help providers transform their revenue cycle and drive financial stability and resiliency?

A: Meduit truly partners with hospitals, health systems and physician groups to offer the right resources rather than simply delivering a canned solution. We do this by identifying the provider's greatest needs and building a better solution that leverages AI and RPA to generate optimum results.

Meduit's staffing model that we call MedAnywhere allows us to recruit, train, manage and retain the best talent no matter where they are, so we can support our partner's staffing gaps. Whether we're performing coding solutions, managing insurance processes, resolving aged claims or managing denials, we have an advantage because of our size, scale and our ability to work as a virtual unit across borders. Because we specialize in healthcare RCM solutions, we are able to efficiently deliver solutions and expertise that fill the RCM gaps so providers can focus on the patient and the care they need.

Q: How do Meduit's innovative solutions help providers deal with current revenue cycle challenges?

A: These days, most providers are trying to minimize the number of vendors they have to manage and prefer a partner that can support multiple solutions. Meduit is unique in that we have the ability to run an entire RCM solutions package for our hospital, health system and physician group partners. Take patient engagement as an example. We have an experienced call-center team that knows the complexity of patient billing, we also have the ability to send out statements, run the entire gamut on the digital front with text, chat, our Patient Concierge App "Eve" that helps patients understand their hospital bill and AI tools to manage the patient engagement process. This allows us to be a one-stop-shop for our partners. We just launched a new solution – MedComplete – that is a total back-end offering designed to efficiently drive account resolution.

In addition, we offer specific solutions for individual RCM needs such as solving Medicaid eligibility and Medicare bad debt. We can provide the primary efforts or even a second look to ensure that the provider is getting the full compensation that is available to them. Thinking of the revenue cycle in terms of a roof on a house, Meduit can repair a hole in the roof with a specific solution or replace the entire roof with a full RCM solution set.