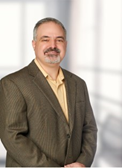 Jason Petrasich specializes in revenue cycle process design, efficiency and resource optimization. He leads the MeduitAITM division, which is committed to delivering transformational artificial intelligence (AI) and robotic process automation (RPA) solutions that help providers accelerate their accounts receivable.
Prior to joining Meduit in December 2019, Jason served as National Vice President, Revenue Cycle for Prospect Medical Holdings, Inc. In his spare time, you can find him at his local Lego store, picking up the newest Lego sets to construct architectural buildings and models.
Q: Can you share a bit about your history and what attracted you to working in artificial intelligence for revenue cycle management?
A: I've been working in revenue cycle for over 25 years and have always been interested in process improvement to help people do their jobs better and to be successful. I had the opportunity early in my career to be involved in some projects that creatively used data to analyze patterns and behaviors to predict outcomes and then optimize the work effort based on those predictions. It got me hooked on the whole idea of AI and using technology to improve our industry.
Q: How did you come to work for Meduit?
A: I had the pleasure of working with Jeff Nieman earlier in my career, so I knew him in the industry. When the opportunity to expand Meduit into the AI area opened up, Jeff reached out to me and invited me to join the team.
Q: What is the biggest issue with artificial intelligence and automation that hospitals and physician practices struggle with?
A: I think the biggest issue right now is generating real value. There is a lot of marketing buzz around AI, and I think hospitals and physicians are looking for actual value delivered through automation. While there are companies making promises regarding AI, delivering real value and communicating that value is important. Hospitals and physicians want to see the promises line up with results, and Meduit is committed to supply real value from AI solutions to the industry.
Q: Do you feel it's important for hospitals and physician practices to have a robust RCM process in place that incorporates AI and robotic process automation?
A: Even before the pandemic, the industry was challenged with staffing. So much of the work has been dependent on having people at their desks, working every day to keep the cash flow moving. There's a lot of risk, in that if there's a snow day or a fire or a tornado or something, that reduces the ability of local office personnel to go to work for a week. COVID-19 has affected everybody at the same time and has impacted efforts to get the work done. For a long time, the industry has needed a set of tools to create stability and support processes. AI solutions are going to deliver that set of tools. These solutions are going to be able to maintain important aspects of work without requiring people to be sitting in chairs to do that work.
Q: Are there benefits to partnering with a third party, such as Meduit, regarding leveraging the best AI solutions?
A: There's a lot of value in bringing experience in AI and automation into an organization. Every hospital has its unique elements, departments, payer contracts and local knowledge that only the hospital team knows how to do. Bringing in someone who knows how to capture the hospital's information and build processes that can streamline efficiencies using AI and automation is valuable to the organization. So it's really blending the best of both worlds to be able to marry hospital expertise with AI expertise from a company like Meduit that results in powerful automation solutions.
Q: What would you like hospitals and physician practices to know about the future of AI, robotic process automation and the healthcare revenue cycle management?
A: Hospitals and physician practices should embrace the change. The healthcare industry is generally 10-20 years behind other industries in adopting technology. The way work is done in the revenue cycle is going to change over the next 5 years. Employees working in the revenue cycle won't be replaced by robots, but they're going to be challenged to provide more of the critical thinking and problem-solving skills needed to resolve issues while automation will be doing the repetitive work that happens over and over again.
Q: You joined Meduit to lead the AI team and grow Meduit's AI and RPA solutions. How did you prioritize getting started and identifying what solutions providers needed the most to drive value?
A: I draw on my experience in running revenue cycle organizations and understanding where the bottlenecks are in processes. Places where the volume of work piles up are where opportunities exist to apply automation and move that work forward. There are so many different things happening in the revenue cycle, but not a lot of them happen repetitively. Certain functions, such as AR claims status or authorization verification that happen over and over again are great for automation. For some processes, we can automate a certain percentage of actions to generate a positive return. Identifying which processes offer the biggest opportunities for automation is critical to overcoming those bottlenecks and generating a positive return.
Q: You've just developed the SARA bot to solve a specific problem for a Meduit client. What is next on the horizon?
A: Evaluating claims that have been denied for timely filing is a challenge that we're looking at. We are working on automation that can search for information on that account to determine if the claim has previously been submitted to the payer or submitted to a different payer and understand all of the different aspects of what happened on that claim to cause it to be denied. Then we apply a business rule and take the action to appeal that denial or create an automated letter with documentation to the payer to have that claim reprocessed. We've been able to look at a particular issue on an account, decide what needs to happen to take action on that issue and then take the right action to resolve that account.