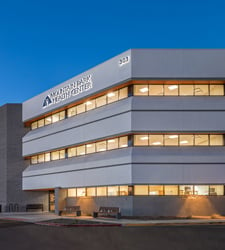 Mountain Park Health Center (MPHC), a large, nonprofit community health center in Arizona providing care to nearly 90,000 residents of Goodyear, Tempe and Phoenix, partnered with Meduit to drive financial recovery from the impact of two years of COVID-19. To solve this issue and ensure a healthy revenue cycle, Meduit and MPHC leveraged MedComplete – Meduit's total RCM solution that optimizes account resolution, increases revenue and minimizes costs.
Through MedComplete's billing expertise, MPHC accelerated cash flow while other similar organizations struggled to stay afloat. MPHC not only survived COVID-19; they thrived.
The increased revenue from MedComplete's solutions allowed MPHC to open an additional clinic and begin building a new clinic from the ground up. Internal staff productivity increased considerably thanks to Meduit's artificial intelligence tool SARA, freeing MPHC staff to take on other necessary RCM functions.
MedComplete's array of services include billing, insurance and self-pay follow-up, coding, credentialing, claim scrubbing, training, Telehealth fluency, and more.
You can read the full case study here.