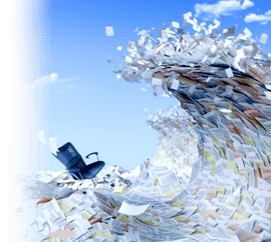 In the first three months of 2023, approximately one-third of inpatient and outpatient claims submitted by providers to commercial payers went unpaid for more than 90 days. Many were outright denied. (Source: Becker's Hospital CFO Report).
Claim denials that were once reserved for a sliver of expensive medical treatments have become a more common occurrence for ordinary medical care. Current payer practices combined with AI and computer algorithms are denying claims by the thousands every month.
Meduit's customers report that insurance denial rates have increased significantly in the post-COVID-19 world, negatively impacting reimbursements. This escalation of denials is causing huge administrative burdens for hospitals, health systems and physician groups.
As a result, the demand for staff to work aged insurance and denials has increased. With labor costs growing across the board for providers and vendors, these competing pressures result in reduced margins and even operating losses for some.
There are really only two options for reducing denials:
Build AI in-house via your internal IT team

Partner with an expert denials resolution vendor
Unfortunately, many healthcare provider teams do not have the internal staff or financial resources to build AI technologies internally. That leaves partnering with the right vendor.
Before selecting an AI denials management firm, ask the following questions:
What processes does the vendor employ to review data, remit data, determine and classify the nature of denials?

What is the vendor's track record for appealing and overturning denials?

Can the vendor help institute process improvements for claim submissions that will reduce future denials?
Meduit handles this challenge for our healthcare partners by deploying expert denials management outsourcing support. To determine whether claims were paid correctly, Meduit utilizes EDI billing data (ANSI 276/277 and 835) and remits data in the hospital's proprietary system.
By effectively appealing and overturning denials, we help maximize recovery and reduce loss. We research and fix denials by providing proper verbiage in the submitted claim, managing the appeal process and delivering denial analytics and transparent reporting.
To find out how Meduit can help solve your escalating claim denials, contact Dave Frank: dave.frank@meduitrcm.com.