Hospital bills can be confusing and overwhelming, impacting timely patient payments. Not only do patients benefit from help understanding their bills, hospitals and health systems need to collect the patient portion of medical bills in order to stay financially healthy.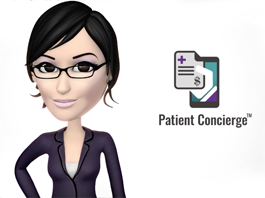 That is why we're introducing Eve – Meduit's patented Patient Concierge app that leverages artificial intelligence to help patients understand every part of their hospital bill and prompt them to pay electronically. When patients understand their hospital bill, they are more likely to pay right away.
A Downloadable Phone App
Eve is a downloadable app that features a three-dimensional avatar named Eve who walks patients through their hospital bill. Eve is available from the AppStore on Apple iPhone® 6 or later devices and Google Play on Android® 5.0 or later devices (at no charge to the patient to download).

To launch Eve, the patient simply scans a QR code on the bill. Eve appears and explains every part of the bill to them.
Eve helps patients by:
Explaining when the bill is due
Identifying what amount is owed
Prompting the patient to make a payment or access their account online
A Win-Win
For hospitals and patients both, Eve is a win-win solution. Meduit's internal case studies have shown that 90% of patients using the Eve Patient Concierge app ultimately pay their bill electronically. For patients who may need financing options, Eve provides connections to those resources.
Download our one-page document that explains how Eve works to help patients understand and pay their bill while fueling the hospital's bottom line.